ABOUT
The 9th VERSIM workshop at Kyoto University
The VERSIM group is an international working group on the behaviour of the magnetosphere and ionosphere by means of ELF and VLF radio waves.
SCIENTIFIC TOPICS
Plasma structures and boundaries - morphology and dynamics
Wave-particle and wave-wave interactions
Wave-induced particle precipitation
Wave propagation in magnetosphere and ionosphere
Sprites and the effects of lightning on the ionosphere
Results of recent space missions such as Arase, MMS, and Van Allen Probes
Committee
Y. Omura (Kyoto University)
H. Kojima (Kyoto University)
M. Hirahara (Nagoya University)
Y. Saito (ISAS/JAXA)
T. Amano (The University of Tokyo)
I. Shinohara (ISAS/JAXA)
Y. Ebihara (Kyoto University)
S. Zenitani (Kobe University)
M. Shoji (Nagoya University)
S. Kurita (Nagoya University)
N. Kitamura (The University of Tokyo)
C. Martinez (Nagoya University)
E. Kawasaki (Kyoto University)
H. Nitto (Kyoto University)
Y. Hsieh (Kyoto University)
S. Nakamura (Nagoya University)
PROGRAM
Outline of Schedule
Sessions will start at 9:00 on Saturday (Nov. 21).
All sessions will close at 18:00 on Wednesday (Nov. 25).
Saturday 21
Oral session
Sunday 22
Oral session
Poster session
Monday 23
Oral session
Poster session
Tuesday 24
Oral session
Banquet
Wednesday 25
Oral session
Conference closes
Oral presentations will only be by invitation.
There are no restrictions on the number of submissions you may submit.
VIEW PROGRAM
TIME SLOTS
It is anticipated that the first draft program will be available by January 2020.
​We are pleased to offer some awards for young scientists.
Excellent Poster Presentation Awards (EPPA) for students
Outstanding Poster Awards (OPA) for early career scientists

1 out of 10 posters
within 7 years after Ph.D
PRESENTER GUIDELINES
ORAL
Oral Presentation Duration

22 minutes including discussion time

Oral Presentation Hours

Nov. 21st (Sat)
09:55 – 12:40 | 14:40 –18:10 Nov. 22nd (Sun) – Nov. 23rd (Mon)
09:00 – 12:40
Nov. 24th (Tue) – Nov. 25th (Wed)
09:00 – 12:40 | 14:40 –18:10


Location

Uji Obaku Plaza 1F: Kihada Hall

Information

We will prepare a Windows PC for oral presentations. However, we recommend to the speakers to bring their own laptop if possible.
The available projector has a 16:9 display size (can also be arranged to 4:3).
Available connectors: VGA, HDMI, Thunderbolt 3, and Lightning.
POSTER
Poster Size

Maximum poster dimensions: W90cm×H120cm
(Portrait orientation)

Poster Presentation Hours

Nov. 22nd (Sun) – Nov. 23rd (Mon)
12:40 – 18:10

Location

Uji Obaku Plaza 2F: Hybrid Space

Poster Setup & Removal

Posters setup time:
Nov. 22nd (Sun): Between 10:40 and 12:40
Nov. 23rd (Mon): Between 09:00 and 12:40
Pins and tapes can be picked up at the Poster Assistance Desk.
Posters must be removed by 18:30 on the day of your presentation. Posters still set up after this time will be removed and recycled every evening.

Information

Light meals and drink are served in the lunch time of the Poster Sessions.
On Nov. 22nd (Sun), the poster boards will be set up around 9:00 – 10:00. Therefore, the board will not be available before 10:40.
REMOTE PRESENTER
Poster

To Be Announced





Oral

To Be Announced




Registration & Fee
Please cancel your payment of the registration fee by March 19, 2020
EARLY REGISTRATION
Standard: ¥25,000
Student: ¥8,000
PAY NOW
VENUE
KIHADA HALL
Kihada Hall, which is located at the Uji Campus of Kyoto University, will be the venue for the conference. Uji Campus is 30 minutes away from Kyoto Station by train.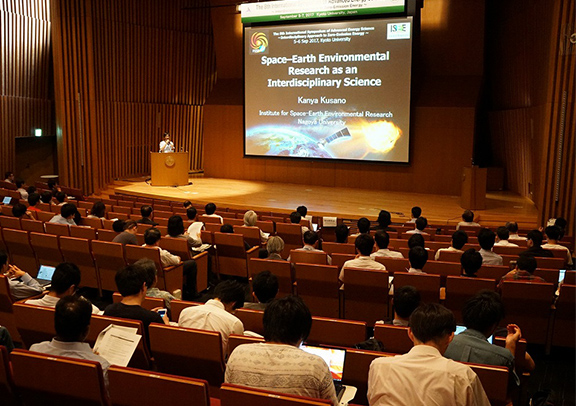 FROM AIRPORTS TO KYOTO STA.
From KIX (Kansai International Airport)

Airport Limited Express Train "Haruka"

One-way fare : ¥2,850 (non-reserved seat)
One-way time : About 80 min.

JR Train

Transfer at Osaka Sta.: From Kansai Airport Rapid to Special Rapid.
One-way fare : ¥1,880
One-way time : About 100 min.

Airport Limousine Bus

One-way fare : ¥2,550
One-way time : About 90 min.

From ITM (Osaka International Airport)

Airport Limousine Bus

One-way fare : ¥1,310
One-way time : About 60 min.

Osaka Monorail

One-way fare : About ¥1,000
One-way time : About 60 min.
You need some transfers.

From NRT (Narita International Airport)

Shinkansen (Bullet train)

Transfer at Tokyo Station : JR Narita Express to Shinkansen
One-way fare : About ¥16,000.
One-way time : About 200 min.
FROM KYOTO STA. TO OBAKU STA.
JR Nara Line

Take JR Nara Line "Local" train (not "Rapid") on platform No. 8, 9 or 10 at Kyoto Sta.

One-way fare : ¥240
One-way time : About 20 min.
ACCOMMODATION
We strongly recommend all participants to reserve their accommodation as soon as possible.
Kyoto is a very popular touristic destination and hotels are often fully booked.
There are few hotels located close to the conference venue.
Hotels are available near the JR Kyoto station.
Convenient access to the conference venue is available via the JR local train from JR Kyoto station (30 min).
Conference Hotels
We will block some rooms for young scientists. The accommodation reservation will be opened Octorber 2019.
BOOK NOW
The links listed below are recommended online booking agents offering a wide variety of places to stay in and around Kyoto Station:
VISA information
Please visit the web site of
Ministry of Foreign Affairs
. If you need an invitation letter, please specify so when you submit your abstract.